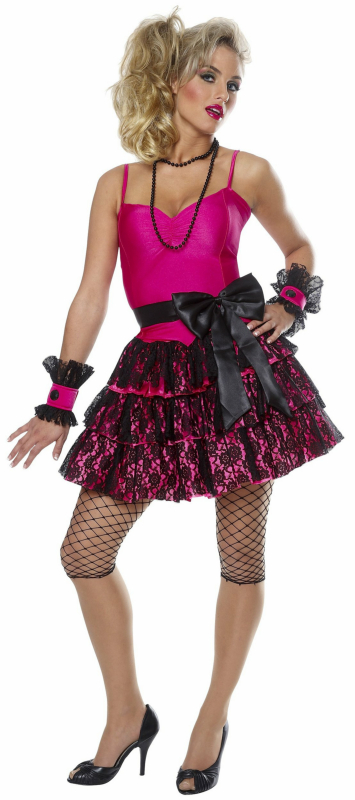 While hanging out at a bar one night with two close friends, M brought up a scintillating question — who is the hotter parent — you or your husband? We pondered the question briefly and came up with our answers.  G announced, "My husband, now; me, back when we met."  She claimed her leftover baby weight prevented her from being the hotter half.
While pushing my wire-rimmed glasses back up on the bridge of my nose, I looked down at my khaki shorts and sensible sneakers.  A tendril of hair slid out of my bun.  I blindly shouted out, "My husband!"
M analyzed my appearance, wrinkling her brow and pursing her lips.  "Hmmm…I don't know about that.  You could be…if you dressed differently."  She offered the comment slowly, waiting for my disgruntled retort.  I merely shrugged, not surprised or offended.
A devious gleam flashed in M's green eyes.  "We need to go shopping for SlutWear!" She slapped the bar stool for emphasis.  I laughed out loud.  G shook her head, covering her face.
"No, really, I think it would be fun," continued my soon-to-be divorced friend who lost 30 pounds, rediscovered make-up and eagerly jumped back into the dating pool.
I've never dressed provocatively.  I love clothes, cosmetics and jewelry.  At age ten, I even wanted to be a cosmetician.  During high school, I broke out the curling iron and hair spray to pouf up my hair in late-1980s, Jersey Girl style.  Oftentimes, though, I chose sleep over my hair, affording myself less than an hour to arrive at school.  In college, I embraced the ugly flannel, grunge-style because it was comfortable, easy, and the music rocked.  Since motherhood, I've enjoyed my uniform of t-shirts and jeans with Uggs, sneakers or flip-flops.
When I returned home late that night and thought about my clothes, I didn't feel particularly dissatisfied.  I'm happy without all eyes on me.
However, the next day, my husband perked up, liking the idea of me in risqué clothing.  "What's wrong with showing off what you've got?!?" He even suggested I buy a sexy bathing suit for our upcoming vacation.  Did he and M discuss this beforehand?
Then I logged onto Facebook and viewed the photographic evidence.  Leaning against a pool table, smiling for the camera, I truly resembled a little old lady.  I didn't need to dress dowdily, but did I need to stuff "SlutWear" into my closet?
Our tentative plans to shop for "SlutWear" hadn't arrived yet, but it caused me to assess my daily appearance.  I hide behind my hair, glasses and loose clothing because it keeps me safe, comfortable, and anonymous.
After switching the kids' summer clothing for winter wear, I cleaned out my closet, deciding which outfits enhanced my figure and which ones hung on my body like a potato sack.  She better not sign me up for "What Not to Wear", I thought, quickly rifling through outdated work clothes and oversized sweat pants used during both pregnancies.  Anything with stains I tossed.  Most items didn't seem objectionable, albeit a tad conservative.  Maybe I could stand to liven up my wardrobe.
All of this coincided with my search for an 80s-style outfit for a party.  Should I wear tight spandex pants or find a mini-skirt? Should I wear bright, neon lipstick and eye shadow? Despite the confines of one decade, the choices seemed endless, and, under the guise of a costume party, I could safely wade into sexier waters.  Could the rough surf of "SlutWear" be next?
After visiting local thrift shops, pawing through clothing from better days and poring over my own belongings, I pieced together an outfit.  I channeled Duran Duran fans I once knew who belted out "The Reflex" while wearing black bowler hats and animal prints.  Purple leopard-print tights and a matching, off-the-shoulder top; bright red lipstick; satin black mini-skirt.  With fluorescent pink press-on nails and black boots, my husband choked out, "You look like a hooker!"  Hardly.  My mother-in-law clapped and told me to "go for it!" Was this a close enough brush with "SlutWear" or "Fashion Faux Pas"?
We entered the party early, so I was able to grow accustomed to my look.  I didn't feel uncomfortable, maybe slightly weird and retro.  With my new bobbed hair, I felt younger and freer.  Even after the other guests arrived, I gradually forgot about my short skirt, crazy tights and heavy make-up.  Underneath my clothes, I was still me.  Whatever I wore, however I looked, I would still be a mom, wife, sister, daughter, friend.  Clothes couldn't remove my identity, but it was fun to experiment.  A foray into "SlutWear" couldn't hurt, either, and M and I would eventually go shopping.  Maybe I'll end up the hotter half.
This is an original post for Jersey Moms Blog.  MB is a New Jersey mom.
Photo credit given to AboutCostumes.